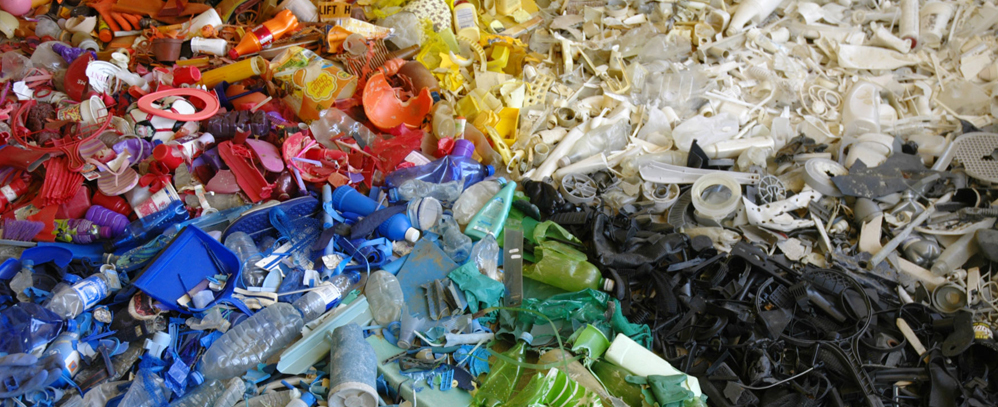 According to a United Nations report issued in June 2006, humankind's exploitation of the the deep seas and oceans is 'rapidly passing the point of no return'. I was really shocked to discover that the report estimated that there are on average around 46,000 pieces of plastic litter floating on every square mile of ocean worldwide, leading to the death of over one million seabirds and over 100,000 marine mammals every year due to entanglement with or swallowing litter. Moreover, a vortex of floating pieces of plastic have since been discovered in the southern Pacific which is the size of Texas or bigger. Similar gyres of plastic are found wherever currents meet in our oceans. Even worse, scientists estimate that plastic can take 1000 years or more to degrade in seawater and even then continues to pollute our environment with thousands of microscopic fibres: samples taken from a Northumbrian beach were found to have over 10,000 fibres in just one litre of sand...
The Challenge
I was so shocked that I was determined to do something about it. So I resolved to 'save' one square mile of ocean by collecting 46000 pieces of litter whilst walking on the beaches near my home. Every time I visited the beach I took 5 or 6 carrier bags and picked up all the litter I could carry. Whilst walking, I raised nearly £1000 for the Marine Conservation Society through sponsorship and sale of my unique seaside 'souvenirs'.
My challenge took exactly a year to achieve - in total I walked over 200kms and carried away nearly a third of a tonne of rubbish!
To see how much I collected and where, click here.
Sadly, however, my challenge isn't really complete. Scientists estimate that the amount of plastic in the sea is increasing at a rapid rate, doubling every 3 years or so. By now, I probably should have collected over 250,000 pieces...
I am still collecting (I can't stop!). But this could be a lifetime's work and I still would not save a single square mile of sea...
Walking
Whilst walking, I took photographs and created a book of what I saw, contrasting the seemingly unspoilt beauty of the landscape with the man-made debris which inhabits it.
Click here to see my photographs in sequence from the beginning of my challenge.
To see specific locations, click the following links:
Aldeburgh - Bawdsey - Covehythe - Dunwich - Felixstowe - Orford Ness - Shingle Street - Sizewell - Southwold - Thorpeness - Walberswick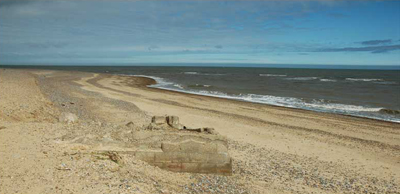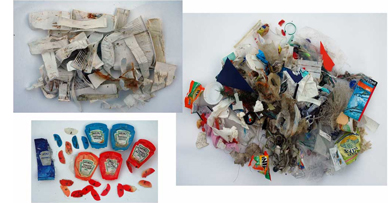 Collecting
I have saved and photographed nearly everything from my walks.
Click here to see some of my COLLECTIONS

Exhibitions
I create huge installations with what I have found, recycling our rubbish as art.
Click here to see photographs from my exhibitions.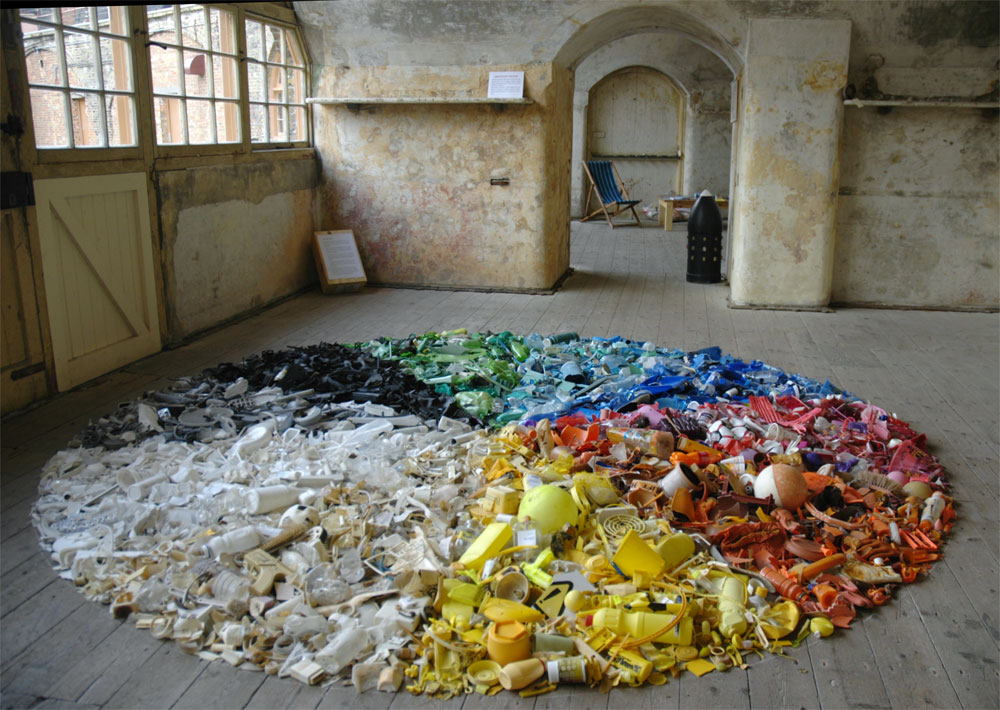 Cast Away, installation of found plastics at Landguard Fort in Felixstowe, approximately 4m diameter.
Click here to read some of the comments people made about my exhibition.
Media
A key motivation for this project was to bring the issues to the attention of a wide audience. I therefore issued regular press releases, telling of my endeavours and what progress I had made: March 2008 Sept 2007 May 2007 October 2006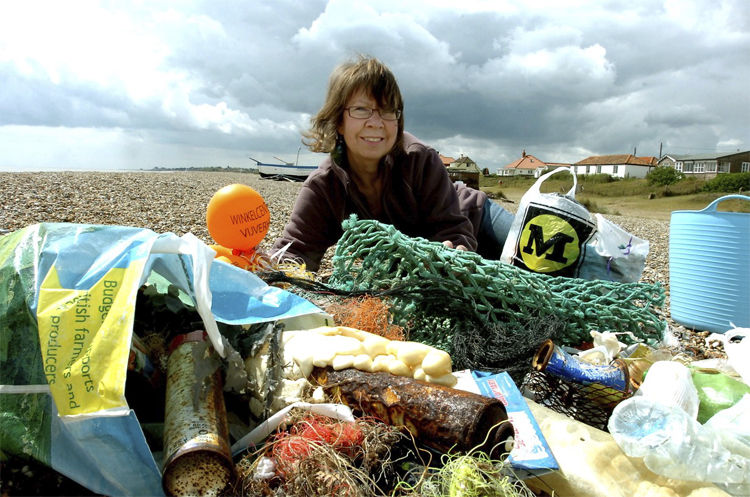 In July 2008, I appeared on Libby Purves' Midweek on BBC Radio 4.
I also featured in the BBC Radio 4 documentary 'The Art of Litter' in February 2009.
My dog Matt became a star of the CBBC website in support of the Beachwatch campaign.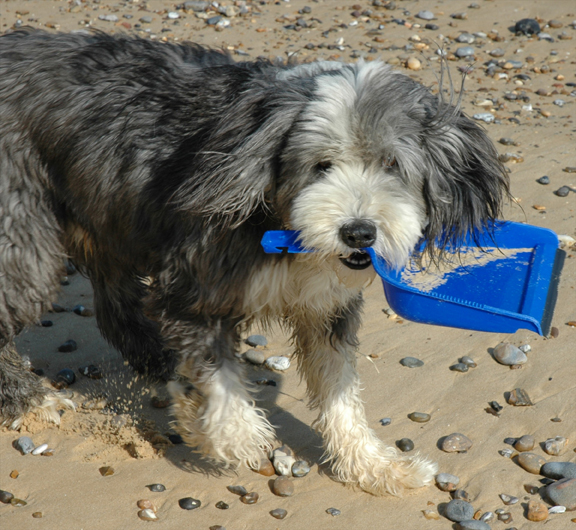 Resources
PLASTIC FANTASTIC?
In 2008 I developed a series of educational posters in collaboration with RISC in Reading. Take a look at them here - you can use them in your own community or just find out more about plastics, their impact on our seas and wildlife and what we can do to help.
Other projects
Many of my other projects are influenced by my marine litter findings: find them under PLASTIC and WATER on my Projects page.
What else can we do?
My efforts may only be a literal splash in the ocean compared to the immensity of the problems are seas are facing. But what if everyone tried to do something about it? If you've got ideas or want to tell us about what you've done, please drop me a line. If it's exciting and different, I am happy to add links.
Meanwhile, have a look to see the things we can all do...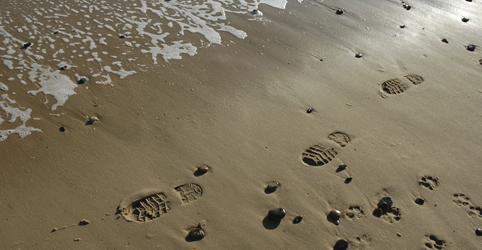 remember when visiting our coastline and wild places, leave nothing but your footprint...