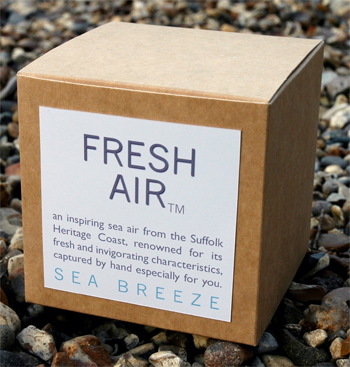 The Airtight Corporation brings to you a unique range of Fresh Air, captured especially for you at very special coastal and countryside locations in Suffolk. Choose from the five great varieties below. If you'd like to avoid unnecessary packaging, just send an large stamped addressed envelope or bag to us and we will fill with the air of your choice and return to you, packaging free and completely free of charge!
WARNING:
Air can damage you health. Please read warnings below before placing your order or inhaling:
Ingredients:
nitrogen, oxygen, argon, carbon dioxide, neon, helium, methane, krypton, hydrogen, water vapour.
May also contain: nitrous oxide, xenon, ozone, nitrogen dioxide, sulphur dioxide, benzene, lead, iodine, carbon monoxide, ammonia, particulate matter (PM10, PM2.5), synthetic chemicals (including pesticides), POPs (persistent organic pollutants), dust, solvent vapour, radon, bacteria, spores, sea salt, ash, pollen, tyre dust. (Note: substances not listed here may also be present.)
All ingredients previously tested on animals and humans with mixed results.
Contents may have been previously inhaled.
Air may be damaging to health. The supplier cannot be held responsible for any health problem arising from inhalation of this product.
This boxes are not airtight in order to let contents breathe in transit. Storage of this product in areas of poor air quality may affect the quality of the contents adversely.
Produce of more than one country. (Patent applied for)
Locally harvested and packed.
Choose from the following unique varieties:

our first (and still most popular) air - an enduring classic for all the family

laid back breathing at its very best...

a spring in the step comes for free with this one

the gutsiest air money can buy

our very best air, packaged in a tiny luxury gold box
- Learn how to AIR RAID -
- Donate to AIR AID -