Suffolk Coastal District Council discovered high emissions of nitrogen dioxide, sulphur dioxide and particulates at the Port of Felixstowe, the largest container port in the UK (Reported on BBC News website, 27th Febuary 2007). According to the EU, ships are fast becoming the biggest source of air pollution in the EU. Subject to little control, they are set to emit more pollution than all land sources combined by 2020.
For more information, see the European Commission website and campaigning group,Transport and Environment's website.
To read more about container shipping, see article in the Guardian published Jan 07.
Moreover, a shocking study in 2009 estimated that one giant container ship can emit as much cancer- and asthma- causing chemicals as fifty million cars...
Of total global air emissions, shipping is said to account for 18 to 30 percent of the nitrogen oxide and 9 percent of the sulphur oxides. Sulphur in the air creates acid rain which damages crops and buildings. When inhaled the sulfur is known to cause respiratory problems and even increases the risk of a heart attack.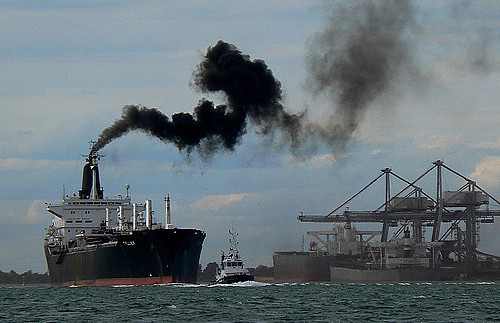 - back -