My exhibition 'C Beyond' was exhibited in the beautiful Dovecote Studio at Snape Maltings, Suffolk, in 2021.
The exhibition also featured the work of Jayne Ivimey: 32 hand-sculpted birds from the UK Red List of 67 critically endangered birds.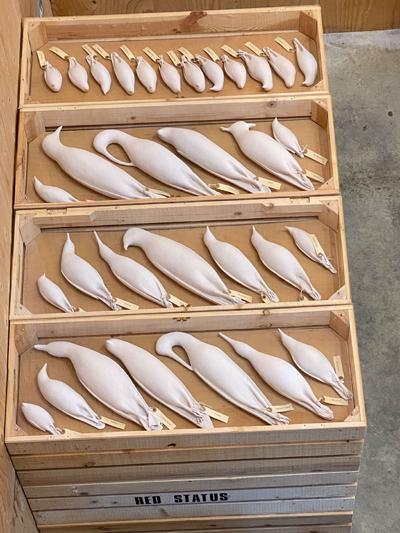 You can now take a virtual tour of the exhibition.
PLEASE NOTE THAT THE CONTENT OF THE EXHIBITION HAS NOT BEEN UPDATED UNLESS YOU SEE A SPECIFIC NOTE IN THE TEXT. COSTS, DELAYS AND OTHER ISSUES HAVE, HOWEVER, ONLY GOT WORSE SINCE CREATING THE EXHIBITION...
FOR PRECISE UPDATES SIGN UP TO THE AMAZING CAMPAIGN ORGANISATION STOPSIZEWELLC OR EMAIL ME HERE
Click on NO NO NO to start your tour.
Or go straight to individual artworks:
NO NO NO (hopes for our children) - The Elephant in the Room - Jayne Ivimey's Bird by Bird - The Sizewell C White Elephant
Sizewell C needs YOU - Out of Order - Battered Seafood - Nuclear island? - Walking at the Edge - C Views - Sizewell Scud
#sizewellcnot4me
INTRODUCTION TO C BEYOND:
In April 2021, a planning application was submitted for two huge new nuclear reactors and the storage for over one hundred years of nearly 4000 tonnes of highly radioactive spent fuel on Suffolk's beautiful Heritage Coast. If given the go-ahead next year, Sizewell C would be one of the biggest infrastructure projects in Europe, right in the heart of Suffolk's Area of Outstanding Natural Beauty. It would industrialise the coastline and greatly harm many special protected habitats, including RSPB's best-loved nature reserve, Minsmere. What's more, we will all have to pay for it.
I have taken part in nearly a decade of public consultations about Sizewell C. The more I have found out, the more shocked I have become about the impact these two power stations would have on the communities, landscape and wildlife of Suffolk: Sizewell C is the wrong project in the wrong place.
But I have become especially concerned about EDF's track record of failure with this type of reactor and the terrible legacy that Sizewell C would leave for future generations, given our eroding coastline and scientists' forecasts of rising sea levels.
I felt I had to do something.
This exhibition is my expression of what Sizewell C would mean for us all. It invites you to see beyond the promises of EDF (Electricité de France) and offers a glimpse of the reality of what these proposals would bring.
I am really delighted that Jayne Ivimey agreed to be part of this exhibition and I want to say a very special thank you to her for contributing a selection of hand-sculpted birds from her work, Bird by Bird, with their profound and unforgettable message about the impact our actions are having on nature.
Please click on the links above to take a look around the exhibition. I hope you will take inspiration from the exhibition and get creating too - perhaps create personal messages with your friends or family showing how you feel about Sizewell C to share via #sizewellcnot4me or please email for me to add for you.
Remember, it doesn't have to be like this. There are many small things we can all do that, taken together, can genuinely still make a difference. It's really not too late to stop Sizewell C and to ensure they'll never be a C in Suffolk!
You can read more about what's personally driven me to create this exhibition here (my personal statement presented to the Planning Inspectorate at the Open Floor hearings in May 2021).
Fran's biography:
Fran is particularly interested in how creativity can be used as a catalyst for positive change.
She has campaigned about plastics in our oceans and exhibited locally and internationally since 2006. Her two favourite exhibitions were Walking to save some sea at Landguard Fort in 2009 and Lines of Exchange here in the Dovecote in 2011.
Fran is happiest walking and swimming on the beaches of the Suffolk coast and particularly at Thorpeness, where she has witnessed and recorded in photographs the corrosive impact of the sea over the last 20 years.
In 2014 Fran launched the Museum of Beyond, a provocative and tongue-in-cheek museum which imagines what people might think of our plastic waste still washing up on beaches in a future beyond oil - and what they might think about us. In her companion project, Postcards from Beyond, she encourages everyone to imagine a positive but very different future living beyond oil.
Fran has exhibited widely both here and overseas, taking part in GYRE, a project commissioned by Anchorage Museum in Alaska which toured in USA in 2014/15. She often initiates and curates her own events or works in partnership with artists overseas. She has also worked extensively with young people in schools and colleges.
She is particularly concerned about the legacy we are leaving future generations and hopes her work will inspire people to become 'good ancestors'.
Fran lives and works in Suffolk.